Outdoors for All:

–Open to All: A Disability Inclusion Guide for Land Trusts – Land Trust Alliance
–Adaptive Outdoor Education Center
Diversity, Equity, Inclusion & Justice:
–Atlantic Black Box: researching & reckoning with New England's role in the global economy of enslavement
– SMCC's Summer Associates compiled resource guides :
–The Avarna Group has curated a working archive of readings, activities, media, tips and tools. To learn more visit and bookmark this open-access and easy to navigate site – Avarna Group Resources.
-MLTN: Resources for Exploring Diversity, Equity, and Inclusion list – This list is compiled and shared by Maine Land Trust Network (MLTN). MLTN hopes everyone will continue to share your suggestions with them. To ensure a fair and meaningful discussion on this topic, MLTN has created guidelines for submitting suggested additions. They are included in the introduction of the document above. These guidelines are intentionally broad and are meant to widen the lens of what credible and useful expertise includes. Thank you for helping us further this important conversation.
–Black Owned Maine Businesses Resource: Article Downeast: Furloughed By COVID, She Became a Champion for Maine's Black-Owned Businesses. Rose Barboza wished there was a way to support Black business owners — so she started her own.
–Mental Health Issues Facing the Black Community: A guide created to discuss the impact of Racism and Discrimination on the Mental Health of Black Communities. Mental health is one of the vital issues facing the Black community in America. Sadly, given the racism and racial injustice African Americans have faced, it's not surprising that they have become more susceptible to struggle with mental illnesses such as depression, anxiety, and substance abuse. Unfortunately, just 1/3 of Black people will receive the help they need.
–Podcasts: Bioneers: Revolution From the Heart of Nature — an award-winning, international radio and podcast series covering a range of topics critical to conservation, including intelligence in nature, climate justice, food and farming, gender equity, Indigenous knowledge, reigning in corporate power, and youth activism.
-Additional Resources for continued DEIJ learning (books; articles; resource links and lists)
-"DAWNLAND" Documentary Film (click to learn more)
ABOUT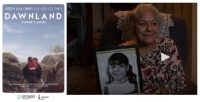 THE FILM: They were forced to assimilate into white society: children ripped away from their families, depriving them of their culture and erasing their identities. Can reconciliation help heal the scars from childhoods lost? Dawnland is the untold story of Indigenous child removal in the US through the nation's first-ever government-endorsed truth and reconciliation commission, which investigated the devastating impact of Maine's child welfare practices on the Wabanaki people.