EXPLORE & SHARE –  #MaineAdventureSeeker

Explore all the fantastic Trails and Waterways in Maine! Share your experience with others using #MaineAdventureSeeker and inspire others to appreciate and care for all our special places in nature.

To help you get on your way scroll down to find links to tools that can help you plan and share your adventures.
Search, Discover and Go!
---
MAINE TRAIL FINDER:  Click here to find trails, and track your trail experiences.
Maine Trail Finder is a free, interactive mapping site designed to help Maine residents and visitors find hiking, walking, snowshoeing, mountain biking, cross-country skiing, and paddling trails across the state. Their goal is to help people get out, be active, and explore our state's treasures, both those well-known and more hidden. Detailed trail description pages allow users to view the trails, get essential information, submit trip comments and photos, find nearby geocaches, and a whole lot more. 
Use Maine Trail Finder to track your trail experiences noting trails that you have completed, your favorites, or ones you want to visit. Save trail logs to remember all your adventures. Complete specific trail challenges and earn digital badges as you go. 
Search the Events Calendar to find outdoor activities around the state that are open to all.
---
NATURAL RESOURCES COUNCIL OF MAINE (NRCM): Use NRCM's Explore Maine Map to plan your visits to Land for Maine's Future locations around the state.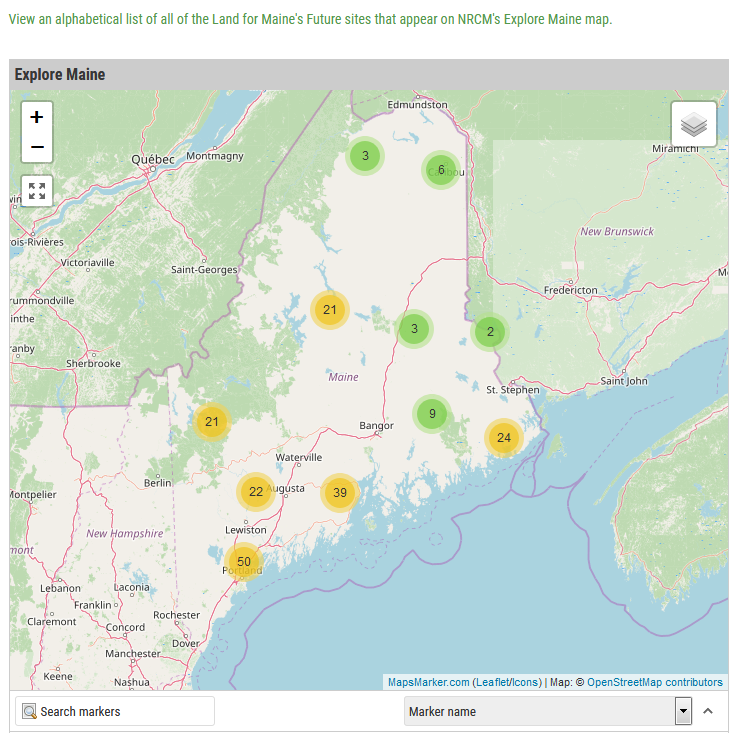 ---
REI HIKING PROJECT:  Click here to find trails and Click here to share your trail experience with others.
Share: [Click here to add your trail experiences for others to see]. 
Trail Map: [see trails in Maine]



>
Trail Experiences: [click here to add your favorite trails]
Conditions: