Shifting Organizational Culture: A 3-Part Series Presented By Red Fong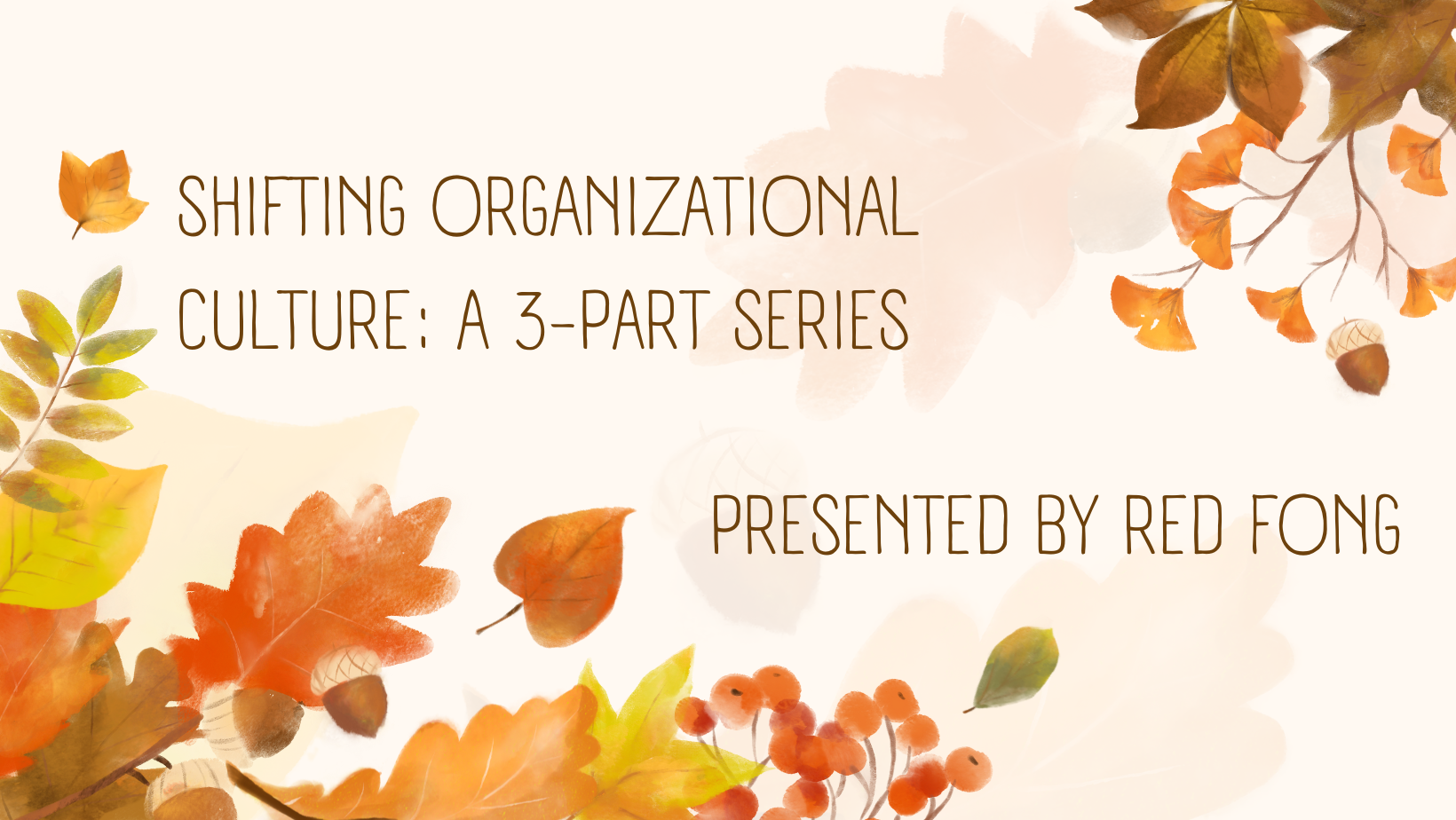 When: Oct. 31, Nov. 7, & Nov. 14, 3:00pm-4:30pm
Location: Zoom (Link provided after registration)
Tickets/Registration: Use this Google Form to Register
Join Red Fong for three weeks of workshops focused on facilitating positive change in organizational culture. Each session will center on a different aspect of navigating this process, with participants learning tools they can take with them to effect change in their own organizations.
Workshop 1 (Oct. 31): Building and Deepening Relationships
A vital component of any project, workflow, or organization is the strength and depth of relationships. Robust and flexible relationships allow us to respond to work emergently, navigate difficult conversations, and be more effective in collaborative settings.
To build these relationships, we can utilize shared experiences that balance feelings of joy and connection with those of learning and being challenged. This workshop offers tools and practices to help build genuine relationships in your organization.
Workshop 2 (Nov. 7): Creating Relational Agreements
As we build and deepen our relationships, we need structures to help us maintain and respect these relationships. One of the ways we can do this is by creating relational agreements or "Ways of Being." These statements articulate the ways in which you, your co-workers, or your organization want to be in relationship with both each other and the work.
This workshop features a guided process that weaves together individual perspectives, needs, and wants to create Ways of Being statements that are representatives for all participants.
Workshop 3 (Nov. 14): Making Collaborative Decisions
Power dynamics and exclusive decision-making are some of the few ways that relationships can break down in an organization. When individuals feel like their input or thoughts aren't being valued, it leads to a lack of trust in working relationships. One of the ways we mitigate these issues is through transparent and consistent decision-making models.
In this workshop, we will explore two models for making decisions that prioritize group participation and inclusive decision-making facilitation practices