Portland Sustainability Series
February 24 @ 5:30 pm

-

7:00 pm

Water World – Portland Water District and the Natural and Built Infrastructure for Treating and Managing Water.
Join us for a discussion with Portland Water District environmental manager Paul Thomas Hunt about the natural and built systems involved in local and regional water management.
In reality, water manages itself. Drops of water are carried in clouds. It rains and they fall to the ground around us. They infiltrate, flow, change state, and generally move downhill until finally reaching the ocean. This process is repeated ad infinitum. What we call water management is really intercepting some of these drops, using them, and then returning them to the flow. Paul will talk about the Portland Water District, a legislatively-chartered organization that is charged with doing some of this water managing for us, and give some examples of natural and built systems that are used for this purpose – Stormwater Retention; Disinfection; Natural Water Treatment.
Guest Speaker: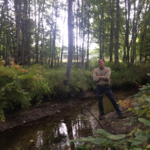 Paul Thomas Hunt is the environmental manager for the Portland Water District. His group of employees is responsible for lake protection and security, environmental education and outreach, water security, industrial pretreatment, and operating two water and wastewater laboratories. Like all of us, Paul is part of the larger water management system in Greater Portland: he and his wife live in Cape Elizabeth in a house that is provided with tap water from Sebago Lake and from which wastewater is discharged – through a comprehensive water treatment system – to Casco Bay.
DETAILS
WHEN: Wednesday, February 24, 2021
TIME: 5:30 – 7:00pm
VIRTUAL EVENT: Via Zoom* (click here details)
FREE AND OPEN TO THE PUBLIC