Portland Sustainability Series
October 28, 2020 @ 5:30 am

-

7:00 pm

Join Linda Woodard, Scarborough Marsh Audubon Center Director, for this in-depth look at the birds of Maine's largest saltmarsh.
Participants will not only learn about these birds but will, also, receive some tips on identification and where to find them. Hundreds of bird species use this unique ecosystem as a migratory stop over, summer nesting ground, a feeding area, and a few live there year round. We will take a look at the herons and egrets that eat fish swimming in these nutrient rich rivers and the many species of sandpipers that nest or migrate through the marsh. A variety of raptors make the marsh their home along with small songbirds. Special attention will be given to several threatened and endangered species that depend on the marsh for survival and the factors that threaten their survival. This event is co-hosted by the Friends of Scarborough Marsh.
DETAILS:

WHEN: Wednesday, October 28th, 2020
TIME: 5:30 – 7:00pm
VIRTUAL EVENT: Via Zoom –  click for details
FREE EVENT

Guest Speaker:
Linda Woodard has been the Director of the Scarborough Marsh Audubon Center for 30 years. At Maine Audubon, she is also the Program Coordinator for students grade 3 and up and leads professional development workshops for educators. She is a liaison to state, regional and national Environmental Education Associations and is currently the President of the New England Environmental Education Alliance. She is an adjunct professor at the University of Southern Maine's Environmental Science and Policy Department. She has received the Environmental Merit Award, U.S. Environmental Protection Agency 2008 and Sphere of Influence Award, New England Women 1996. She spends most of her free time out birding and enjoying nature.
Co-host: Friends of Scarborough Marsh: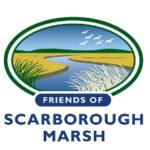 The Friends of Scarborough Marsh is a nonprofit coalition of concerned citizens, landowners, businesses, state and federal agencies, environmental organizations, and others. We have in common our love for the Scarborough Marsh and our commitment to safeguard it for generations to come. Established in 2000, we are an all-volunteer group dedicated to the conservation, protection, restoration, and enhancement of the Scarborough Marsh. Our efforts include:  reports and studies to understand challenges and potential for restoration; land conservation initiatives; education and public outreach events like clean-ups.