Future Focus: Creativity and Climate Action with Jess Cooper
March 2 @ 4:30 pm

-

5:30 pm

Speaker Series Featuring Maine's Youth Climate Justice Activists
Young adults throughout Maine are innovating, organizing, and leading efforts to connect and address the most pressing social and environmental issues we face, and many have garnered statewide, national, and international recognition and accolades.  Join us for a youth-led monthly webinar series highlighting youth climate justice activists and their stories from across the state.  Each one-hour session will focus on a different individual and the intersectional leadership work they are doing in their community and beyond.
Brought to you by Maine Audubon, Maine Climate Action Now, Maine Youth for Climate Justice, MEAA Changemakers, Southern Maine Conservation Collaborative 
Upcoming Event:

Tuesday, March 2nd, 4:30 pm | Future Focus: Creativity and Climate Action with Jess Cooper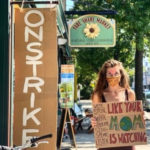 Jess Cooper, 25, believes the power of creative thinking goes beyond just finding creative solutions to tackle big issues like climate change. She writes, "Creativity is necessary for absolutely everything we do, and propels the success of a movement by opening up a broader platform to broadcast our ideas to. It helps us see things that we might not otherwise be able to see in a movement, it allows us to express our emotions and thoughts in a way that is accessible for everyone to interpret. Creativity is one component of climate action we can't overlook."
Join us for a conversation with Jess, a young mother, dancer, musician, artist, community organizer, and an avid environmental advocate, and she incorporates her art into everything she does. She has centered her work around organizing youth in western Maine. Her focus is on projects that help create thriving environments for current and future generations to live, work, and play in. Jess is driven by strengthening connections in her community and throughout the state, and carries out this work through the Center for an Ecology-based Economy in Norway, ME, where she is the youth coordinator for the youth climate action team. She took up climate action advocacy after becoming a member of two key climate action coalitions in Maine: Maine Youth for Climate Justice and Maine Climate Action NOW!