Tune in to watch "Dawnland" on PBS-Independent Lens
January 10, 2019 @ 10:00 pm

-

11:00 pm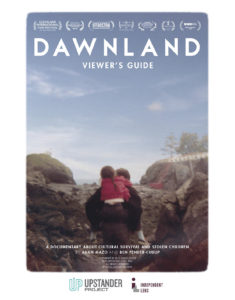 "DAWNLAND"  See how a group of Native and non-Native leaders in Maine came together to acknowledge and address the abuses suffered by Native children in the hands of the child welfare system, illuminating the ongoing crisis of indigenous child removal.
Thursday, January 10th, 2019
airing on TV at 10:00pm on PBS-Independent Lens
About the Film
They were forced to assimilate into white society: children ripped away from their families, depriving them of their culture and erasing their identities. Can reconciliation help heal the scars from childhoods lost? Dawnland is the untold story of Indigenous child removal in the US through the nation's first-ever government-endorsed truth and reconciliation commission, which investigated the devastating impact of Maine's child welfare practices on the Wabanaki people.
---
A special thank to our community partners and guest speakers who helped make the October Portland Sustainability Series free screening of the documentary film, DAWNLAND, a success. The event drew the largest crowd to date for the sustainability series. 
Community Partners | Guest Speakers:
Telling Room
The Nature Conservancy
Maine Audubon
Portland Trails
(Guest Speaker) Mishy Lesser, Ed.D.,  is the learning director for the Upstander Project and Dawnland, and Education Fellow at the Thomas J. Dodd Research Center at the University of Connecticut.
(Guest Speaker) Ntlewes Esther Anne, Peskatomuhkahti nil, Ckwaponahkiyik, nuceyu Sipayik. Esther Anne, is a Passamaquoddy, part of the Wabanaki -the people of the dawn and from Pleasant Point. She joined the Edmund S. Muskie School of Public Service in 2003, engaging young people in foster care to ease their transition into adulthood.  She had the honor of having a critical role as a Muskie staff person and a Wabanaki community member in the creation and establishment of the Maine Wabanaki-State Child Welfare Truth and Reconciliation Commission and Maine-Wabanaki REACH. She is now deeply engaged in the implementation of the Commission's recommendations through the lens of restorative justice and decolonization.