How to participate:

STEP 1 – HEAD OUT TO WILD SEED PROJECT'S CLIMATE CHANGE OBSERVATORY SITE: see the map below for help. Once you find the CCO site, position your smartphone/camera on the bracket, this will properly position it and ensure that photos added to the time lapse are consistently aligned.
STEP 2 – TAKE A PHOTO AND SHARE IT: Take a photo and email it to Chronolog using the email address and the site code unique to Wild Seed Project's CCO location (this information is posted on the instructional sign).
STEP 3 – VIEW THE TIME LAPSE: Chronolog adds every photo to Wild Seed Project's Chronolog time lapse video and makes it publicly accessible online. Additionally, an email is sent to the the person who took the picture with a link to the time lapse video and information about the CCO project site. The visitor can share the information with others and encourage them to participate and/or learn about the project.
[Funding for this CCO project was made possible in part thanks to Southern Maine Conservation Collaborative's grant award from Mosaic, a new national initiative to better support people working to deliver clean air and water, a stable climate, healthy and just communities for all, and protection of our natural heritage by bolstering the critical infrastructure all movements need to succeed.]

Click here to see examples of what Rewilding can look like and read the blog post, "What is Rewilding?"
Find a location of a Climate Change Observatory Site:
Watch a presentation on why Native plants play an important role in our ecosystems:
Native plants are beautiful, important for our local ecosystems, and do not need the high nutrient and water inputs of commonly cultivated plants. In this presentation, Heather McCargo, Executive Director of Wild Seed Project, covers the many reasons we all should care about our region's native flora and the importance of bringing these native plants back into our gardens and developed landscapes. She also discusses current native plant trends and issues in the nursery trade (including cloning and the loss of genetic diversity), and explains how we all can support our native flora by planting seed-grown native plants.
As we face the unprecedented, urgent, and entwined challenges of the climate crisis and biodiversity loss, you can be part of the solution when you pledge to Rewild. Become part of this growing movement and take the Pledge to Rewild Today!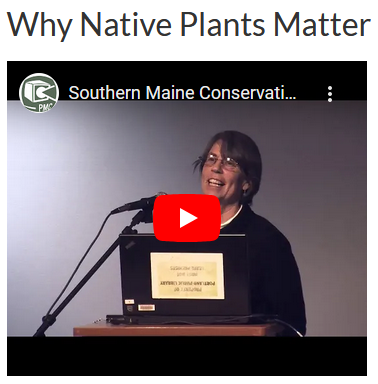 "Nobody's going to fix the world for us, but working together, making use of technological innovations and human communities alike, we might just be able to fix it ourselves."
– Jamais Cascio (Author)