Outlook explores variables that shape and influence individuals relationships with nature and how they seek to inspire, adapt and reimagine what conservation can look like moving forward in a world where Climate Change is affecting a broad range of human and natural systems.
---
Author: Chas Van Damme, SMCC Summer Associate. A rising senior at Bates College studying Environmental Studies with a focus in Global Environmental Politics.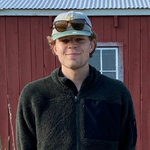 ---
OUTLOOK: A Climate Change Observatory site installation with Caitlyn Hanley, intern at the Falmouth Land Trust and Chas Van Damme, summer associate SMCC & MEEA.
There's a joy-ridden emotion I often find myself chasing, one that surfaces only after heavy exertion, after struggle, never after ease. It's a funky feeling that I've come to love, and one that I recently reacquainted myself with last week.  
On a hot, muggy day, with a lack of bug spray and nothing but rain and sweat forecasted for your afternoon, is there anything you would want to do more than dig some holes in the woods? I know my answer, and it's probably a little different from yours. I was thrilled about the opportunity to install a new Climate Change Observatory (CCO) post at Morrill Stillings Bird Sanctuary in Falmouth last week, and so was the incredible Caitlyn Hanley, an intern for the Falmouth Land Trust, who I was fortunate enough to join on this adventure. As a fellow student at Bates College, Caitlyn is studying Environmental Studies and working as an organizing intern for Defend Our Health, where she helps lead the charge to promote equitable access to safe and healthy drinking water. She is especially interested in exploring sustainable agricultural systems and the impacts climate change is having on these systems.
If you haven't heard of the Climate Change Observatory Network, it is a photo monitoring program designed to work with environmental organizations and communities to assist with the observation, measurement, and documentation of long-term climate change trends, and climate adaptation projects. CCO sites are installed all over the state of Maine and are very easy to use. Simply place your cellphone on the photo bracket at the CCO site post, take a picture and upload it to the Chronolog. The photo is instantly placed into a time-lapse alongside pictures taken by other folks at that location, allowing you to view the changes in environment over time. Caitlyn and I had the job to install a new site to add to this growing observatory network and that, of course, meant digging holes!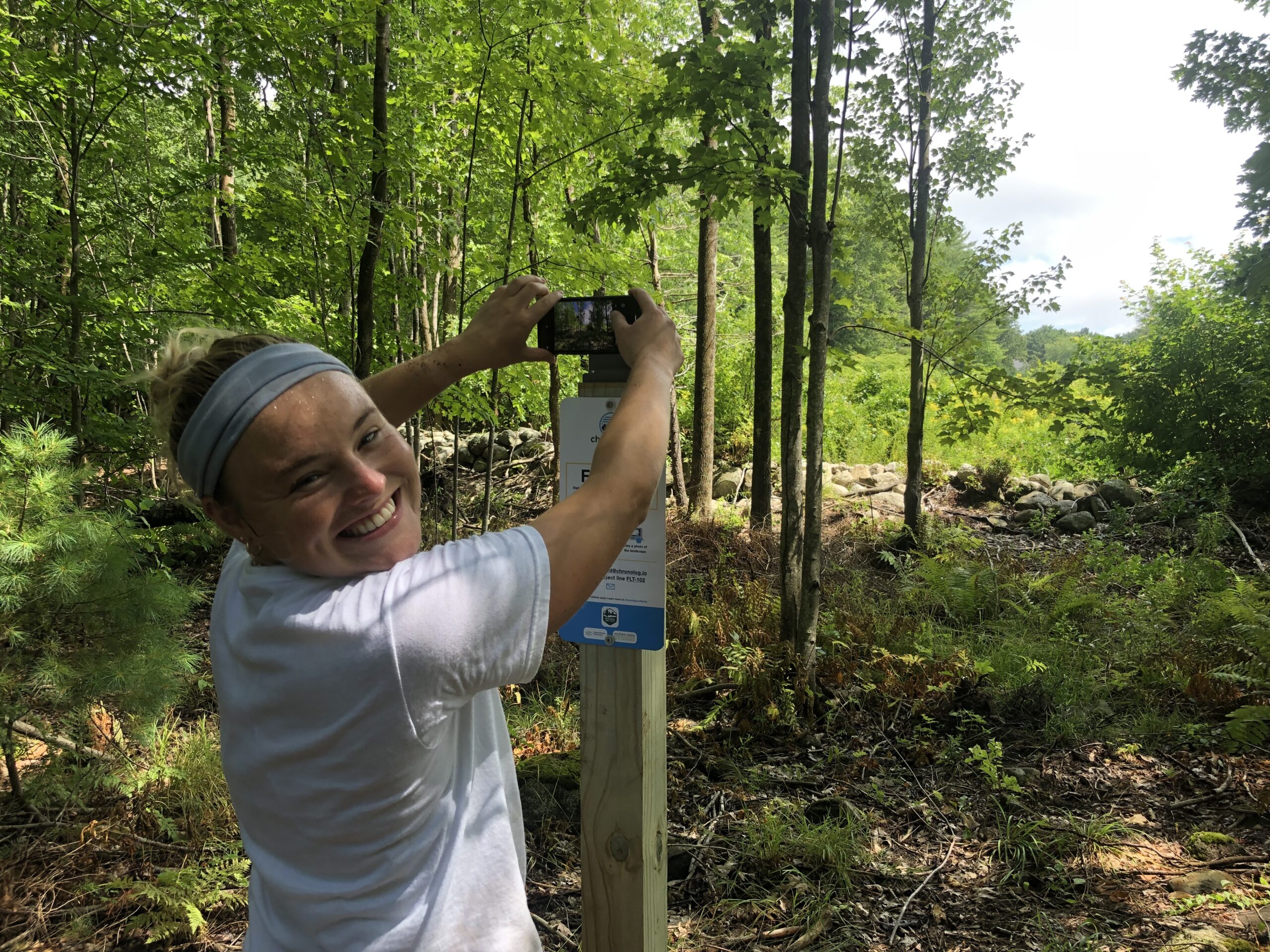 For our hole-digging adventure, Caitlyn had scouted out a spot next on the Fraxinus trail network overlooking the Bobolink Meadow, the home to a number of Tree Swallows and Bluebirds. FLT decided this was the perfect location to place a CCO site to capture the gradual change in the meadow environment over time. The location also features some invasive plant species in its view, and will monitor ongoing work to remove and manage them in order to restore native plants to create a healthy ecosystem. It was at this set-up location that Caitlyn and I found ourselves working toward that funky feeling I noted earlier.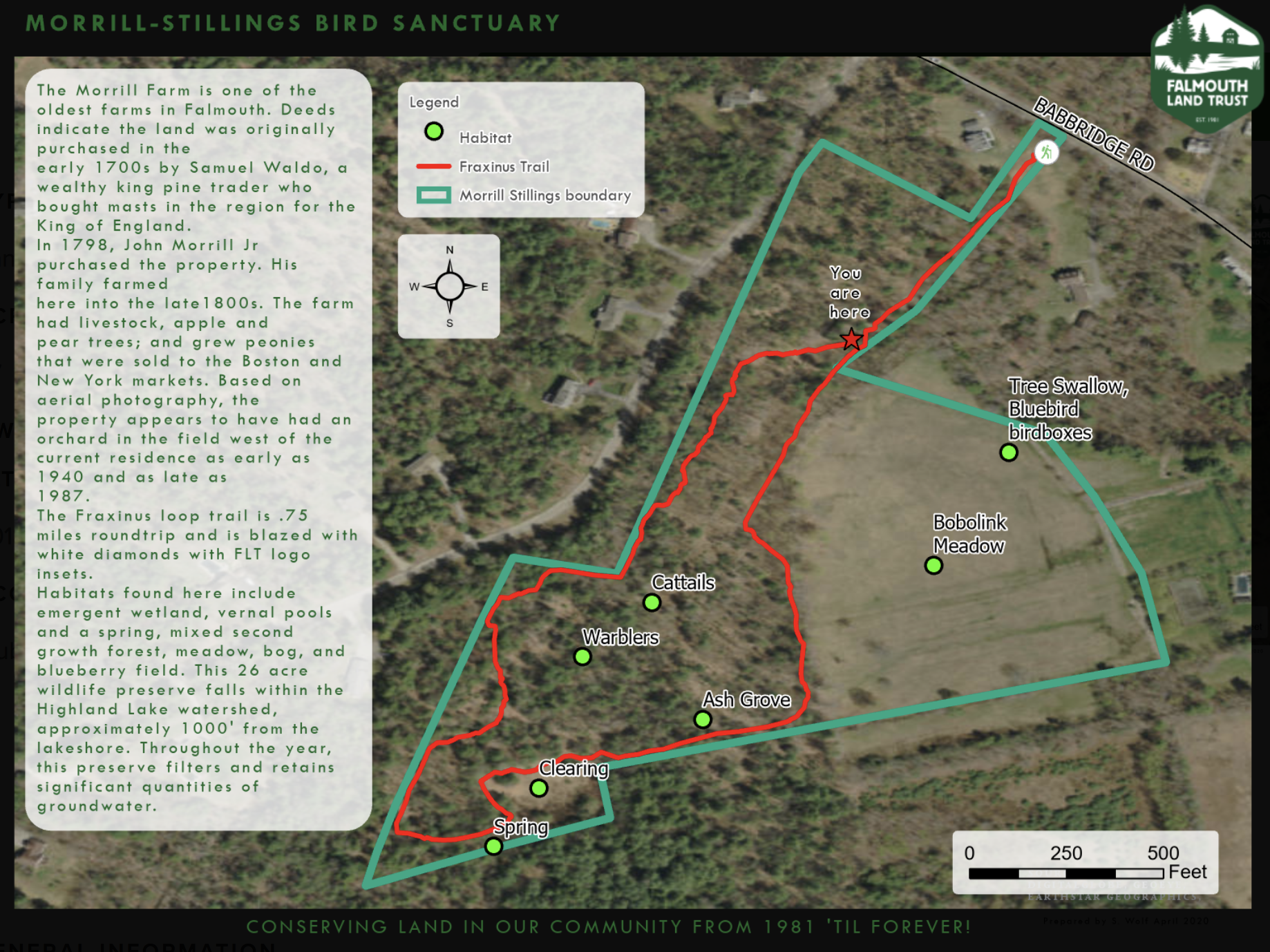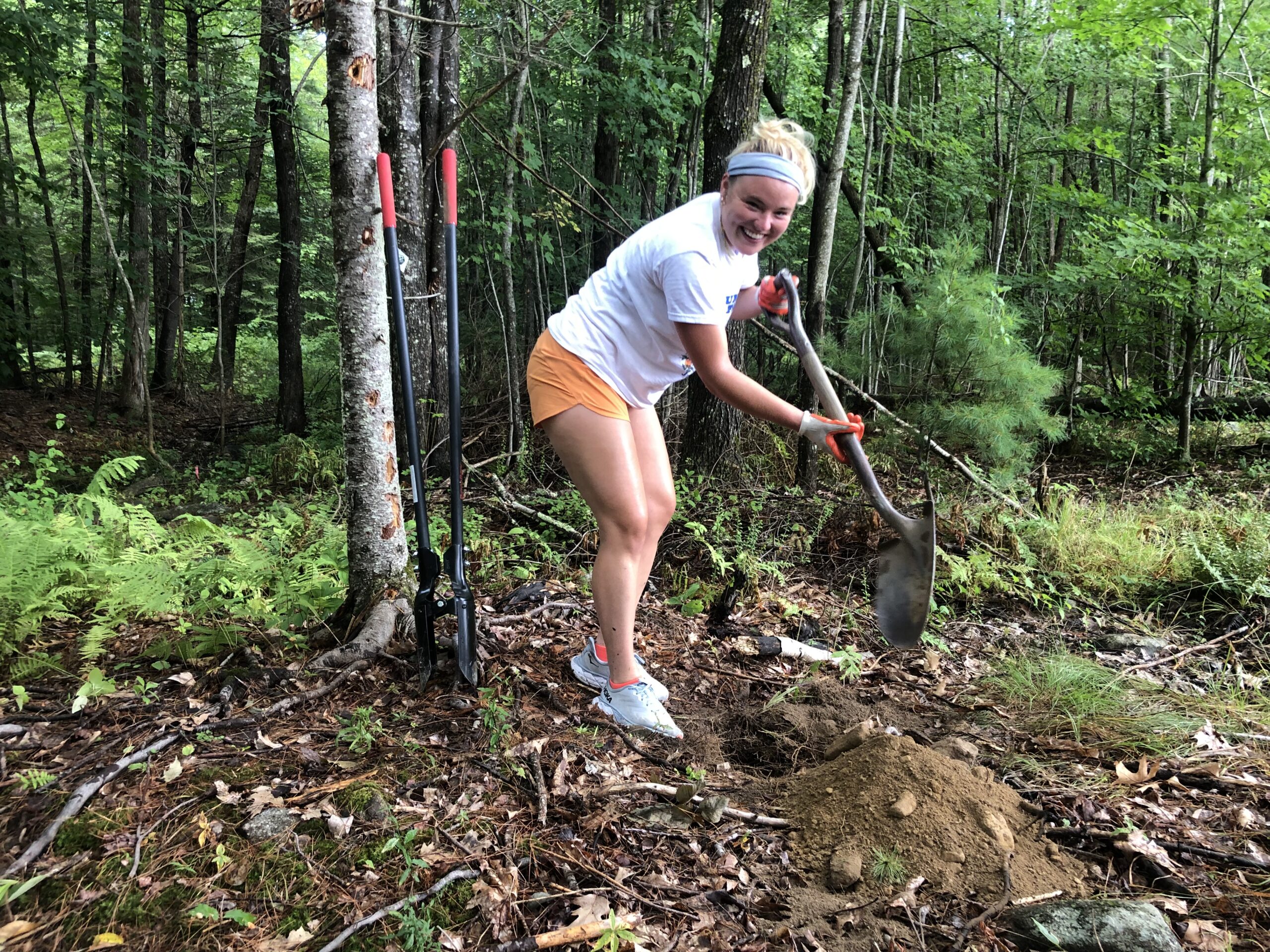 We had lugged in the 8 foot post, a pair of shovels, and a post-hole digger – well-prepared to start digging. To our surprise, however, putting a post in is a lot harder than it looks. Old root systems, large rocks, and little critters meant we had to take a couple detours into the ground. Careful not to damage the sensitive soil and understory, we made sure to dig slowly, maneuvering gingerly around the tree roots and taking plenty of water breaks. As we switched off with the tools and ping-ponged complaints about the weather and bugs, we couldn't help but share a couple laughs. Yet this would only mean that funky feeling of joy would hit a little harder once we were done. After 3 feet of digging, we put the post in, oriented it in the best direction, and packed the remaining dirt in. It was perfect timing as rain began to sprinkle over us and it only took a little more work screwing in the Chronolog stand above the post to call it quits. We were done!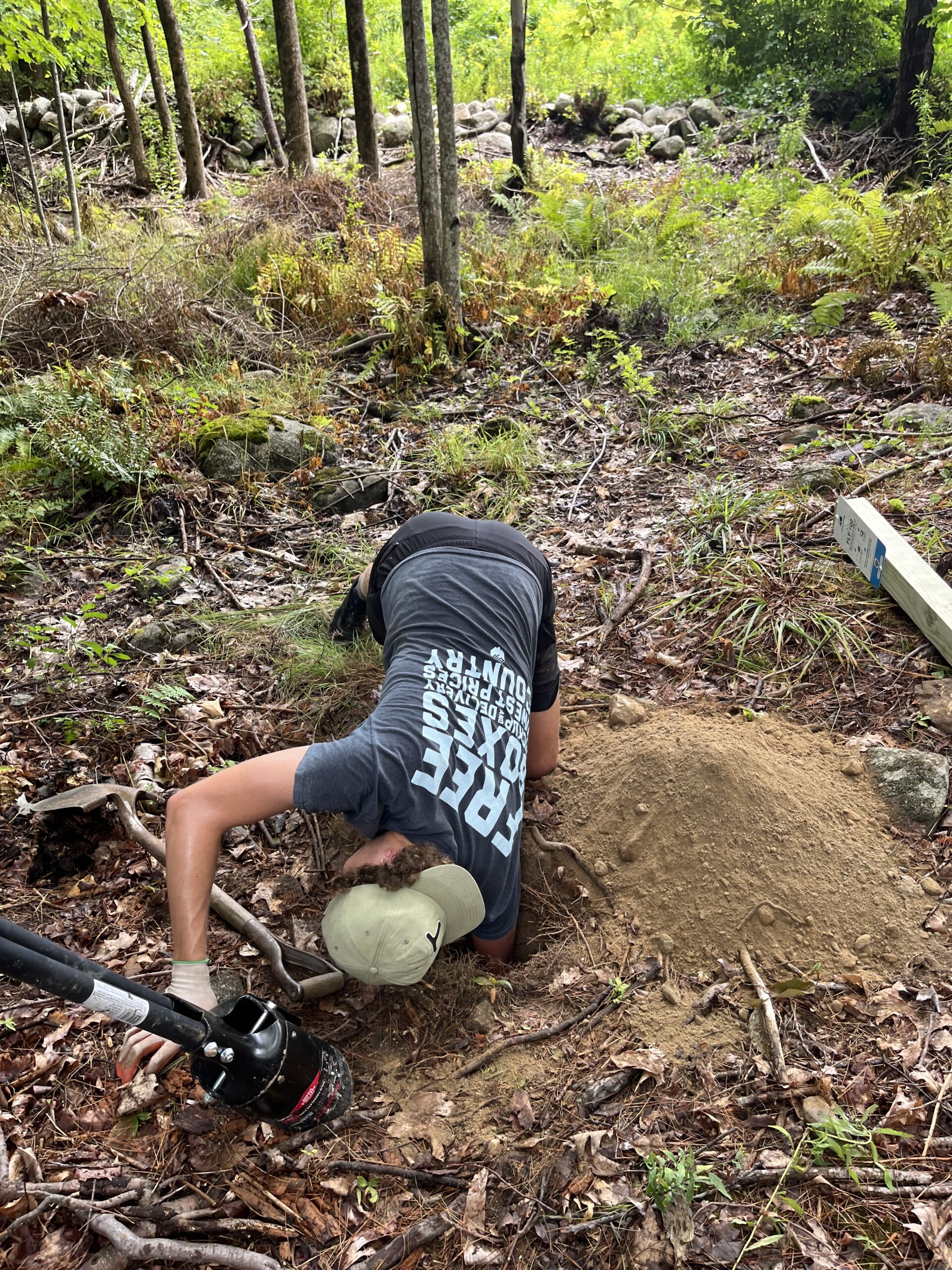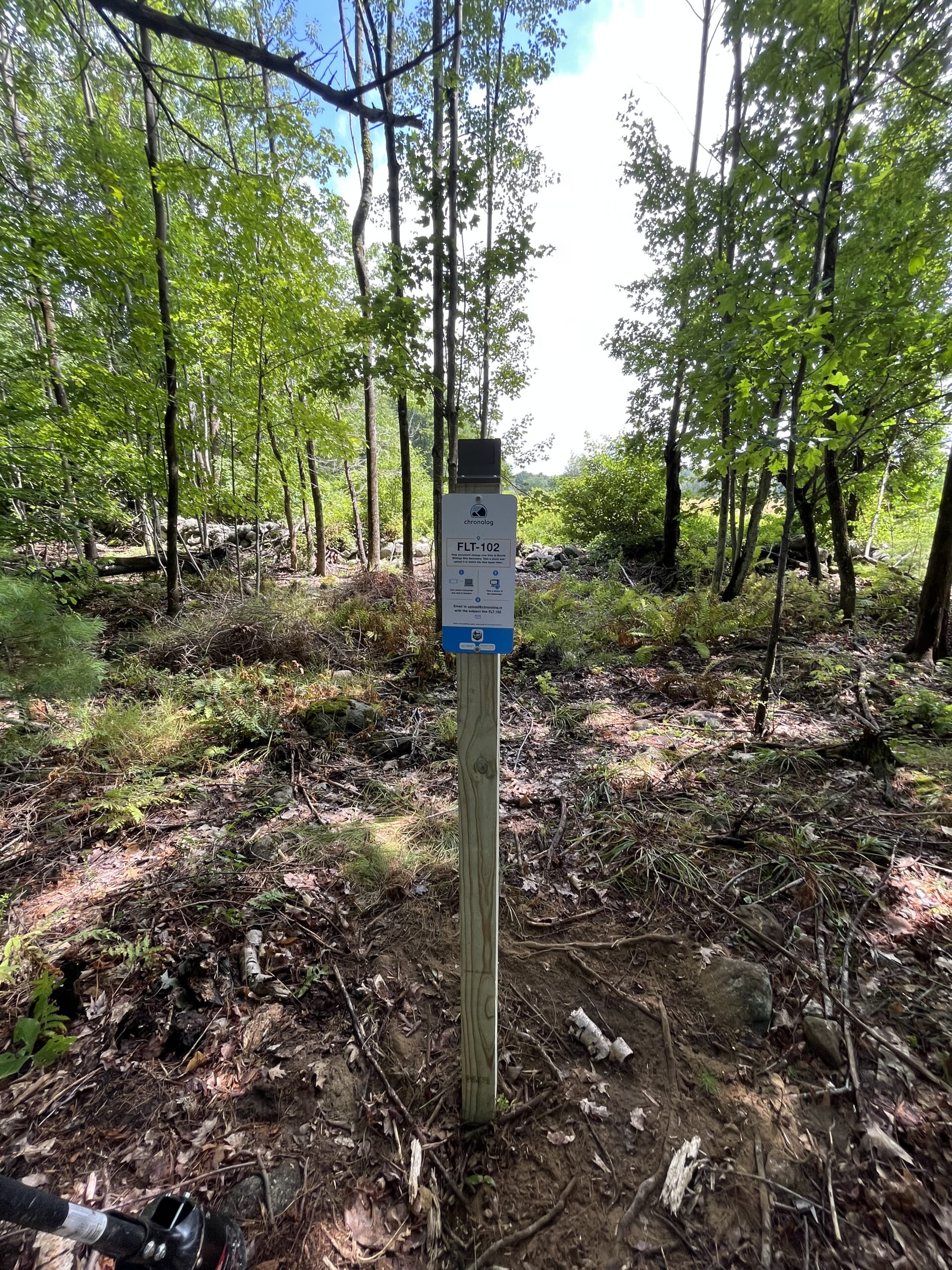 We had installed a post hopefully sturdy enough to stand for years to come, allowing anyone with a phone to help monitor and capture the gradual changes of this lovely little nook in the Falmouth woods. I'm thrilled to have been able to play a role in the CCO network with this install. It's truly fascinating to see how projects like this come together and can be a tool to help land trusts and communities better understand environmental changes occurring over time and offer support for making more informed management and adaptation decisions. Thanks for a great experience, Caitlyn!