Outlook explores variables that shape and influence individuals relationships with nature and how they seek to inspire, adapt and reimagine what conservation can look like moving forward in a world where Climate Change is affecting a broad range of human and natural systems.
---
Author: Chas Van Damme, SMCC Summer Associate. A rising senior at Bates College studying Environmental Studies with a focus in Global Environmental Politics.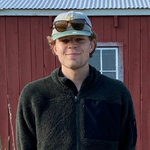 OUTLOOK: An afternoon chat with Margaret Gerber, Director of Stewardship at the Brunswick-Topsham Land Trust.

I recently had the opportunity to meet up with the wonderful Margaret Gerber, Director of Stewardship at the Brunswick-Topsham Land Trust (BTLT). Founded in 1985, BTLT is a nonprofit land trust protecting over 3100 acres of rich natural landscapes throughout the Brunswick and Topsham area. Shaded by the tall pines above us, we sat outside her office in Brunswick to talk about her work in the realm of conservation and what she envisioned the field might look like as the pace of climate change continues to increase throughout this region.
Having previously worked with the Royal River Youth Conservation Corps, Maine Island Trail Association, Maine Coast Heritage Trust, and now BTLT, Margaret has had the unique opportunity to see how conservation has shifted through the years. In her early work in the Conservation Corps, she noted that climate change was not the primary focus that it might be today. Ensuring public access to outdoor spaces for opportunities like recreation filled that role. This focus, however, shifted dramatically in the wake of the IPCC's early Climate Change Report, which informed us that dangers to our health and way of life were imminent if we did do something. As we spoke, Margaret recalled the exact moment the report came out: she was sitting in her college bedroom alongside her roommate, discussing it as a wave of existential dread filled the room. This period proved to be formative in making conservation essentially her life's work. 
She immediately switched her plans to travel on a semester abroad to New Zealand, opting instead to pursue a sustainability program in Denmark. Her experiences there, a piece of which entailed a trip to research ice recession in Greenland, brought her up close and personal to beautiful, yet equally sensitive natural landscapes. The ice sheets she had seen were (and still are) receding at unprecedented rates, exposing bedrock that hadn't seen a hint of light for hundreds of years. This was the most visible and tangible exposure she had ever had to climate change, an experience which created what she noted as a "powerfully visceral connection" to the realities of human-induced environmental harm. 
As I look through the notes from our talk, I keep coming back to this point. It reminded me of a reading I did a while back about the psychological discrepancy between humans and climate change, particularly in the ways in which we see, feel, and understand environmental hazards. Elise Amel, in their article "Beyond the Roots of Human Inaction," argue that because humans developed in "a world where dangers were sudden and obvious…our senses are ill equipped to detect largely invisible and gradually worsening ecological problems" (Amel et al. 2017). We aren't geared to immediately react to manifestations of gradual environmental harm, especially when the impacts of something like climate change appear amorphous and oftentimes invisible. 
Perhaps one way to illuminate invisibility is to take influence from Margaret, and help people find the opportunities to see the clear visual evidence of climate change for themselves. Land trusts like BTLT create such opportunities to bring the public into the beautiful and complex ecosystems that surround us. Through their trail networks, workshops, and volunteer opportunities, they help individuals to tap into a reverence for the natural world, while simultaneously exposing them to threats these sensitive environments are facing. Land trusts are not just preserving land in perpetuity, but also protecting the immense educational value that land can provide us. It's for these reasons that I truly value the profound role that even the smallest of land trusts play in advancing global conservation efforts. 
Margaret, thank you so much for taking the time to speak with me. Our conversation opened a lot of boxes in my head, and I hope this piece does something similar for others!
*Amel, Elise, Christie Manning, Britain Scott, and Susan Koger. 2017. "Beyond The Roots Of Human Inaction: Fostering Collective Effort Toward Ecosystem Conservation". ScienceMag 356 (6335): 275-279. doi:10.1126/science.aal1931.