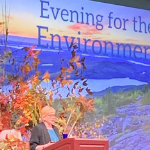 Election Day is on Tuesday, Nov. 5, 2019. It is not as big of an election year – last year we voted for our Governor, next year we will vote for our next President. But these in between elections are really important for the true ground game, which is the game local conservation organizations are playing every day in the neighborhoods and communities that make Maine such a special place. Vote!
[Photo: Governor Mills speaking at the Maine Conservation Voters/Maine Conservation Alliance Evening for the Environment in October]
CLICK HERE TO READ THE NOVEMBER 2019 E-NEWSLETTER
On the ground news from our members:
On the Scarborough ballot: THE LAND ACQUISITION RESERVE FUND
Scarborough Land Trust.
Water is beer's most important ingredient: MAINE BREWSHED ALLIANCE
Portland Water District.
Spreading the word:
MAINE WOOD + SUSTAINABILITY TOUR – November 7, 2019