Hi everyone this is Lily here, Jared and I have been busy in and out of the office! Hopefully, you were able to catch up on some of the things we've been up to from the 'Letter from our Summer Associates' post which was uploaded earlier this week.
Last Wednesday I caught a ferry to Chebeague Island to visit Deer Point, which is on the southwest tip of the island. The day started out hazy and humid, but being on the ferry provided a nice breeze and made it a great day to be out exploring a member property. Chebeague and Cumberland Land Trust, a Southern Maine Conservation Collaborative member, oversees the property easement of this privately owned land. There are 13 total acres of protected land, 2 of those acres at the southernmost point are protected via a "forever wild" easement that only allows for the removal of damaged or dead vegetation and trees, nothing more.
After getting off the ferry, I headed up to the road that would lead me to Deer Point. Signs near the trail had suggestions about wilderness safety, not building fires, and my personal favorite, a sign that reminded visitors "No Wheels Just Heels". It was a quick half-mile walk through a lush, green forested trail to the rocky coastline of Deer Point. I passed a few houses and cars, but aside from that, the island was peaceful. I appreciate how different Chebeague is from the other islands in Casco Bay I regularly visit. I think the biggest distinction for me is that Chebeague is a much larger island. Despite its size, it still had a relaxed community feel.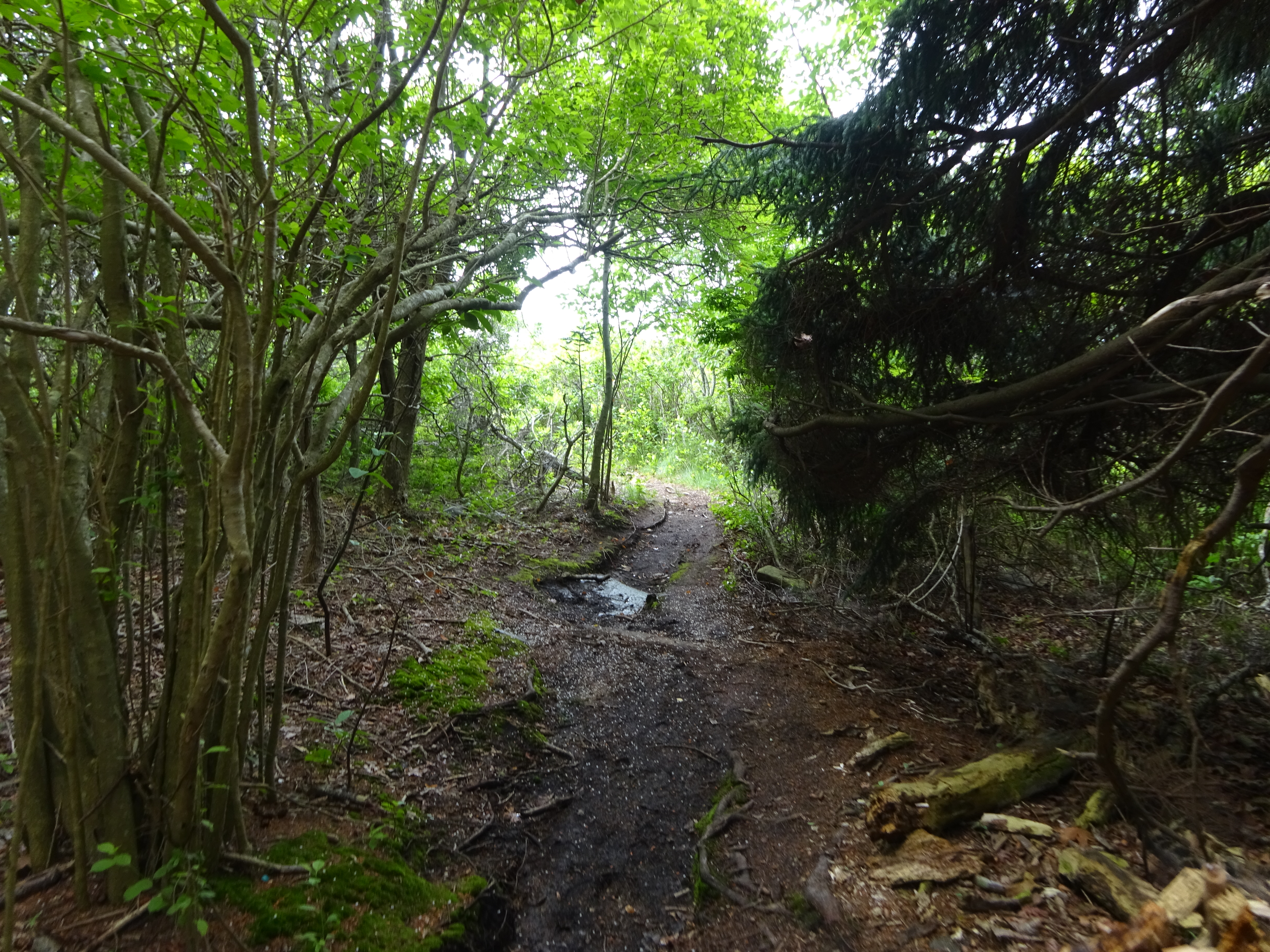 Something I wished I had more knowledge about on this trip were rocks. There were so many interesting shapes, colors, and textures that made me appreciate the natural beauty I was standing on. I was left wondering about each unique history. I would have loved to know the story behind the ragged edges and pockmarked surfaces. Aside from the nonliving features of Deer Point, there were lively tidepools, vibrant flowers, and a wide variety of birds overhead. There was no sign of human activity aside from a lone washed-up buoy.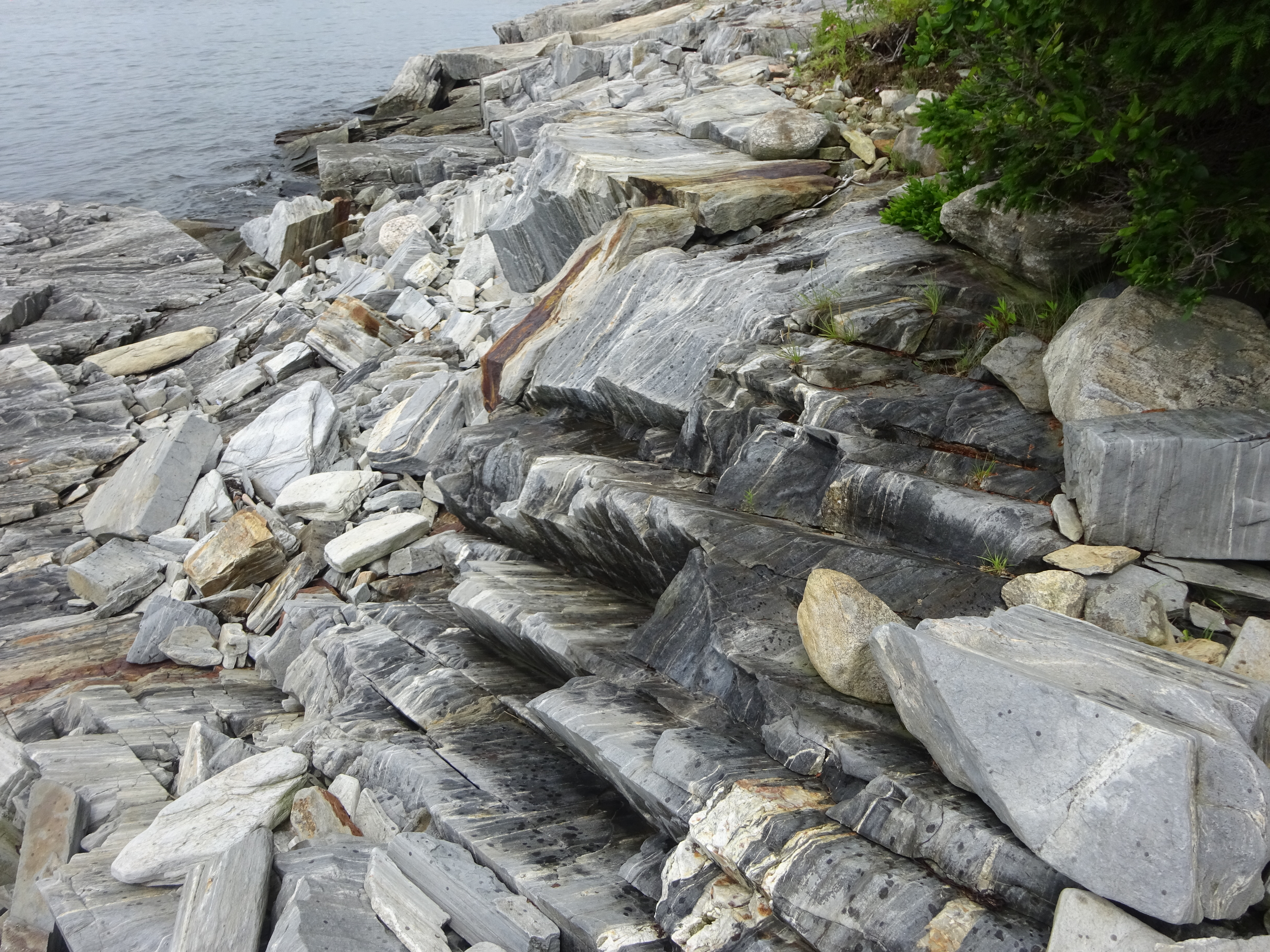 I found a great spot to eat lunch and enjoy the view of Casco Bay on one of the many rock choices. At one point while I was eating it did start to rain but it soon passed with no change to the sticky, humid, feeling in the air. I was tempted to put my toes in the water to cool down but didn't want to miss the ferry home, so I decided to head back to the ferry landing and see what I could do about cooling off there.
Once I got to the dock I did take my sneakers off and climbed down the ladder to the surface of the water. Normally I would jump off the dock and climb up the ladder, but with no bathing suit, my solution was to climb down and stand with my legs submerged in the refreshing water for a few minutes! Reflecting back on the day, I was amazed at the raw natural beauty I had seen. Being a Maine resident for my whole life, sometimes I take for granted this breathtaking place. Having days like this to explore and highlight some of my experiences certainly makes me appreciate where I'm from. Until you plan your own visit Deer Point, you'll have to believe me that it's worth the trip! Stay tuned for more Summer Associate adventures as we head into August!