Hi again! Just a heads-up this is a collaborative piece, including writing from myself (Lily) and Jared.
Last Wednesday, Jared and I took a ferry over to Peaks Island with our bikes to explore some of the property one of our member organizations, Oceanside Conservation Trust of Casco Bay, oversees. When I rolled out of bed Wednesday morning, I could tell we were going to be treated to a beautiful day on the island!
The first stop on our journey was Battery Steele, which proved to be more difficult to find than we were originally led to believe. After realizing we'd made a wrong turn, we consulted a map and retraced our steps to eventually find an entrance to one of the battlements, dense with greenery and colorful art. Originally, Battery Steele was a coastal WWⅡ battery defense, which was built to defend Casco Bay. The 14.3-acre easement is owned by Peaks Island Land Preserve and is maintained by the Oceanside Conservation Trust.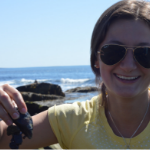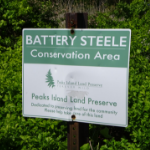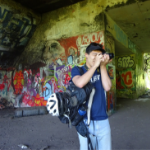 After thoroughly examining the forts it was time to move on… I was biking, admiring the funky mailboxes shaped like lobsters, and looking at all the flowers along the way. Lilacs and Rhododendrons were in full bloom, lightly perfuming the air and making me glad I had taken my allergy medicine earlier that morning.
I was a few yards behind Jared, trying my best to keep up, who at one point looked back and hollered "Hurry up, we're working, this isn't a vacation!"
 We both chuckled.
The Daveis Sanctuary, composed of both woods and waterfront, was next on our list of places to explore. We headed through the wooded area first and finished by the rocky coastline. The Daveis Sanctuary was allocated by Mary and Mabel Daveis in 1946 originally as a songbird sanctuary. In 1977 it was transitioned to the Audubon Society, and later to Oceanside Conservation Trust in 1994! Since Daveis Sanctuary borders another OCT property, we were able to also easily explore Everett and Mildred Skillings Woods. This property was donated by Sarah and Robert Skillings in 2001. I enjoyed the canopy of the vibrant green hues as we wandered throughout the wooded properties. On the waterfront area of Daveis Sanctuary, there was a rocky shore and some big boulders that made a great place to stop and eat lunch!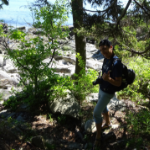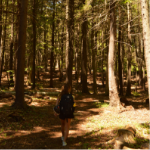 We also briefly stopped by Ice Pond before heading back to catch the ferry. Peaks Island Land Preserve, as well as OCT, are working in tandem to protect and preserve Ice Pond. Our SMCC director and Peaks Island resident, Jessica Burton, shared that this is a favorite place for island residents to ice skate on in the winter.
We biked back to the ferry terminal to catch the next ferry back into town. Since we had a few minutes to kill, it only seemed fitting to end the day with a scoop of ice cream from Down Front. I hope you enjoyed this update and keep reading to hear from Jared!
~Lily
If you're still reading, thanks for your commitment!
Our day in the sun left me with some thoughts about the island. During our time on Peaks it became very clear why it was so alluring, of course we visited at an ideal time. The residents of the island have carved their spaces in unique ways, shore-front properties abut the coast precariously, speaking to the rising threat of climate change in these smaller communities. The houses are painted with a smattering of colors, and are shaped around the rocks. It was evident that the residents have a particular way of understanding the natural spaces around them.
Communities that live in ecosystems of flux are required to have an integrated understanding of how their environments change. This is particularly true for communities living near tidal zones, and even more true for island communities. In this sense, residents are often more attuned to their surroundings which can serve two purposes. In one way, this attunement can lead to a sense of environmental nostalgia, a yearning for an ecological past. I'm sure that if you asked long-time residents about how their land has changed over the years, you could get a very detailed description of how the island has changed over the past few decades. This is only possible because these individuals are aware of how the tides move around the island, and are able to note changes. These changes can often incite a sort of nostalgia. One that pulls on a hope that everything will go back to the way it was. This mindset is grounded in a perceived understanding of an ecological baseline. It is difficult to understand the interplay that occurs in ecosystems, which is further complexified by climate changes. Inherently coupled with this mindset is a resistance to adaptive change and a leeriness of incorporating adaptive management techniques. From this, we can understand how attunement to ecosystems can lead to inadequate responses to climate-related changes.
This attunement can also push observers to work to protect and maintain the natural spaces around them, especially those that are at risk for being affected by sea level rise and other climate-related issues. These integrated understandings of local environments can be leveraged to better address environmental needs. Communities that access these understandings are better able to be self-determining and play an active role in shaping their environmental futures. By having place-specific knowledge, responses to environmental needs can be tailored to specific places and they can be adaptively managed on smaller scales, promoting longer-term resiliency and adaptation. Within the context of environmental conservation, these communities can serve as models for healthier interactions with the spaces we care for. In my previous blog post we discussed the meaning of conservation; which is important for understanding how communities that are able to use place-specific knowledge to inform their environmental decisions are ensuring that they are part of the evolving definition of conservation and environmentalism.  
~Jared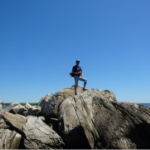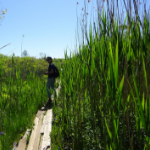 Thanks so much for reading about our latest adventure! Be sure to look for more upcoming posts soon!