Let's just say I haven't spent too much time in the Old Port. This week alone, I've spent more time meandering up and down Commercial Street than I ever have in the 20 years I've been a Maine resident. I have also used Google Maps more than I would like to admit to get to work with enough time to score a parking spot.
As a Summer Associate at Southern Maine Conservation Collaborative, one of our goals is to get out on the properties and land trusts that are SMCC members. I am excited to be working alongside Jared Fong, rising Colby senior and Environmental Studies major. Although our schools have a contentious relationship, both of us can agree on our enthusiasm for the environment and conservation! We hope that you'll follow us through some of our experiences this summer.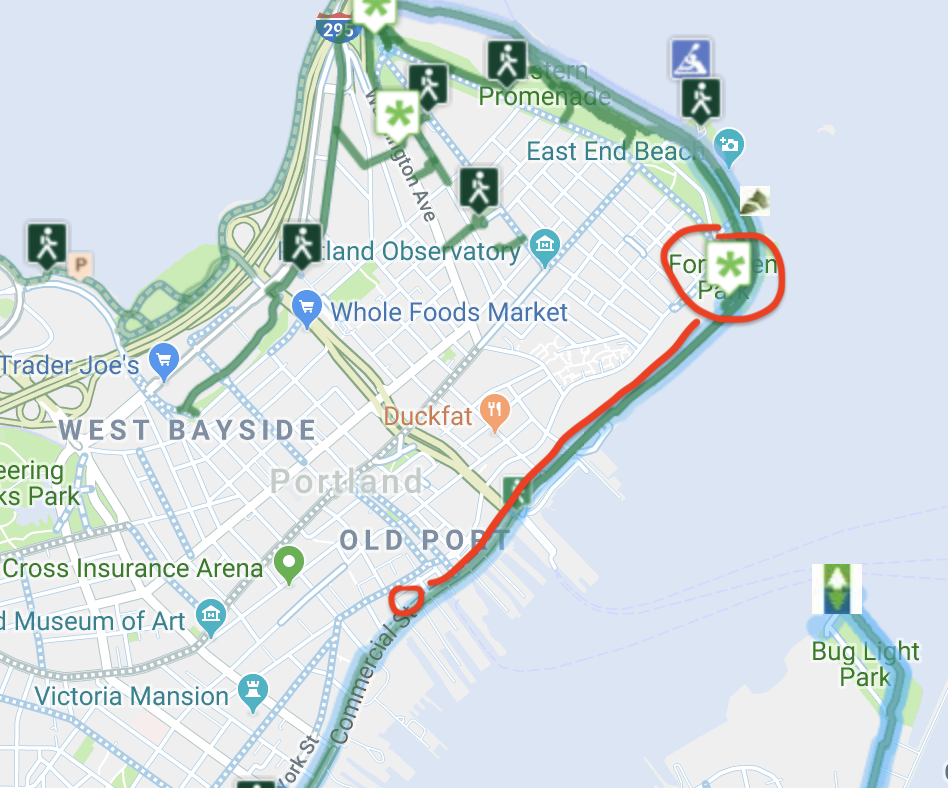 Our second day in the office was sunny and 70°F so we were urged to check out Portland Trails and enjoy the weather. Portland Trails is an urban land trust that connects people to green spaces and trails all throughout the Greater Portland area. Being in the Old Port, we walked down Commercial Street to the Eastern Promenade Trail and meandered along it until we reached Fort Allen Park. On the way, there were views of beautiful Portland Harbor, Bug Light, and Fort Gorges.
A few minutes into our walk, I noticed some of the wooden pilings close to the Ocean Gateway Pier with lots of seaweed growth. The seaweed seemed to be almost 'climbing' up the wooden poles sticking up out of the water. Submerged parts that were underwater were swirling with the movement of the water, drawing my attention to the vast amount of seaweed growing in this part of Portland Harbor.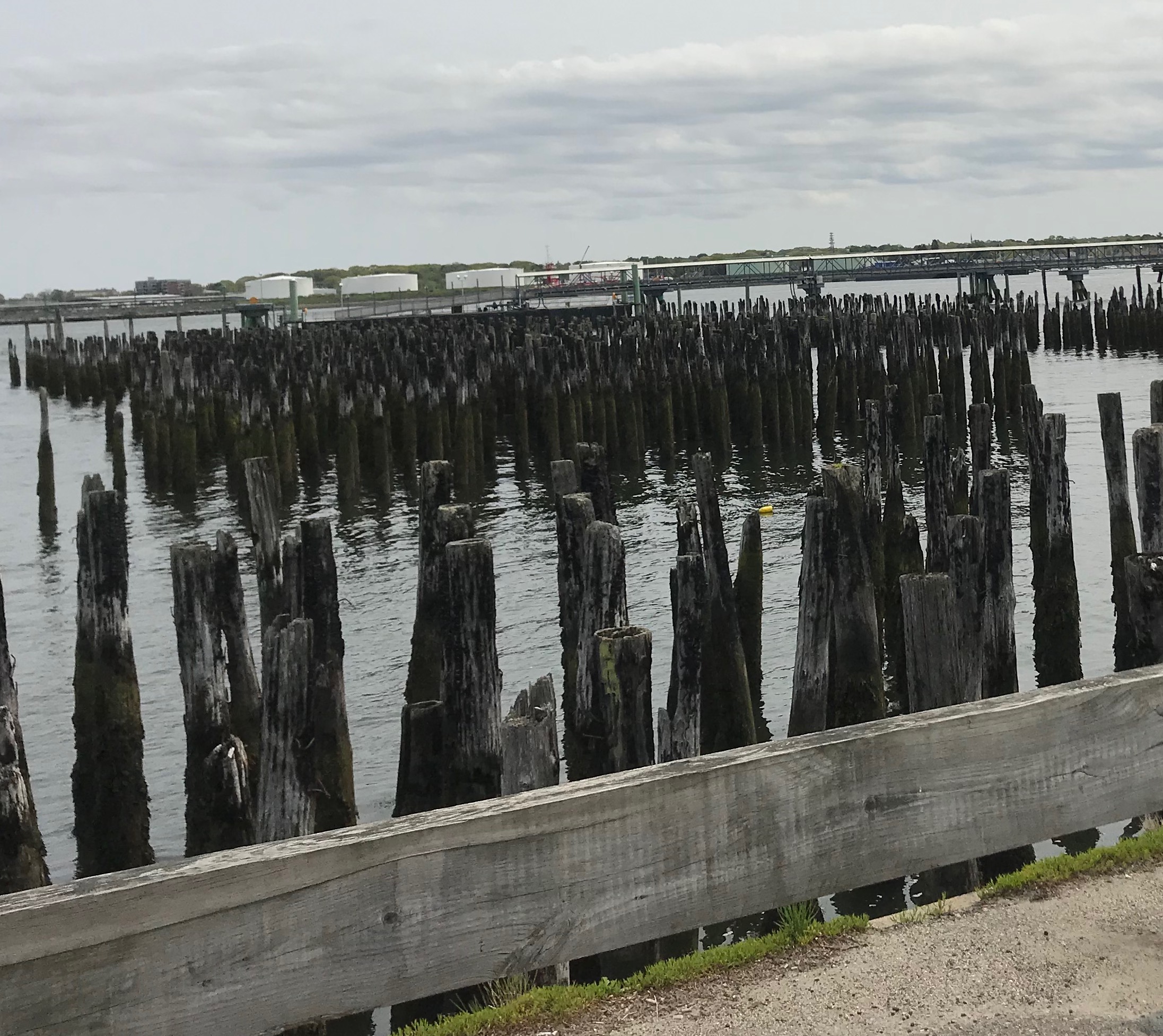 "Look at all that Ascophyllum!"
Jared gave me a quizzical look.
"Sorry, Ascophyllum nodosum" 
Let me pause and say I am quite the marine flora and fauna fanatic and aside from being a commercial shellfish harvester, I am an enthusiast for all things marine biology. Just recently I finished a course called 'Ecology and Natural History of the Maine Coast' during Bates' 5-week May semester called Short Term. We collected marine samples, learned various sampling and analysis techniques; and we ended the course with independent group research projects. My group's project was to see if tidepool depth and elevation had any correlation with species diversity and richness. One aspect of my research consisted of identifying different marine flora and fauna, so I had a lot of practice learning and studying their characteristics in order to correctly identify them. In the tidepools I was responsible for, I came across a lot of Ascophyllum nodosum so I felt compelled to acknowledge this fascinating and abundant species.
As Jared and I continued along the Eastern Promenade Trail, we saw a diverse crowd. Many were dressed in work clothes and athletic sneakers, taking advantage of the trails to get in a walk on their lunch break. One woman was briskly walking, dressed in a full business suit with the exception of some bright pink running sneakers. Other people were running and jogging, walking dogs, or sitting quietly on a bench taking in the view. Jared and I approached the Fort Allen Trail, leading up to Fort Allen Park, where we were able to enjoy a view higher up and sit on the grass before heading back to the office. Even in an urban setting, I was able to enjoy Maine's natural beauty that many have come to know and love. Stay tuned for more updates to come as we explore many of our members' properties.
–Lily Nygren, 2019 Southern Maine Conservation Collaborative Summer Associate